Resources to Optimize Microsoft 365 (Formerly Office 365) License Management and Reduce Costs
For organizations with 500 or more users or devices, that want a more manageable volume licensing program, the Microsoft Enterprise Agreement (EA) provides the ability to buy cloud services and software licenses under one agreement. These enterprise agreements are for three-years and require the purchase of a certain number of licenses at the same time each year. For many organizations, their Microsoft EA renewals are coming up in June. In a recent study, 60% of IT executives said that reducing Microsoft licensing costs was their most critical initiative for their organization.
With the deadline approaching, we've gathered together some of our resources to help you better prepare for EA renewal negotiations over the next few months and optimize your Microsoft 365 (formerly Office 365) license management going forward.
To optimize investment in Office 365, administrators and IT teams must be able to identify and enact policies that will boost worker productivity and reduce subscription costs. In this two-part blog series, we outline six tips to help in that venture.
In this webinar, we take a closer look at some of the common reasons why managing Microsoft 365 licenses can be challenging. We then explore ways to minimize those frustrations, all while reducing costs and improving efficiency.
Overview of a real-world application of Cayosoft solutions. Learn how Mednax not only improved their security and efficiency, but gained visibility and control over their Microsoft license management to the end-user level.
Many organizations think about their cloud services and software licenses as part of their larger approach to asset management. You can save money and improve end-user productivity by having strategy to optimize licensing and Office 365 services.
Simplify License Management and Reduce Costs with Cayosoft
Understanding License Optimization
With so many license options, how does an organization negotiate the best price it can, based on what Microsoft 365 features are actually being used by employees?
Microsoft offers a variety of licensing options for 365 users that can range significantly in cost and services offered. The price difference between the list price of an E5/G5 license and a mailbox license can be up to $372 per user per year. Without the ability to accurately judge usage, you could face significant costs in terms of over-licensing and lost productivity. In addition, under-used and unassigned licenses represent wasted budget that could be reallocated to other needs – even still as part of the Microsoft EA – to improve services to users.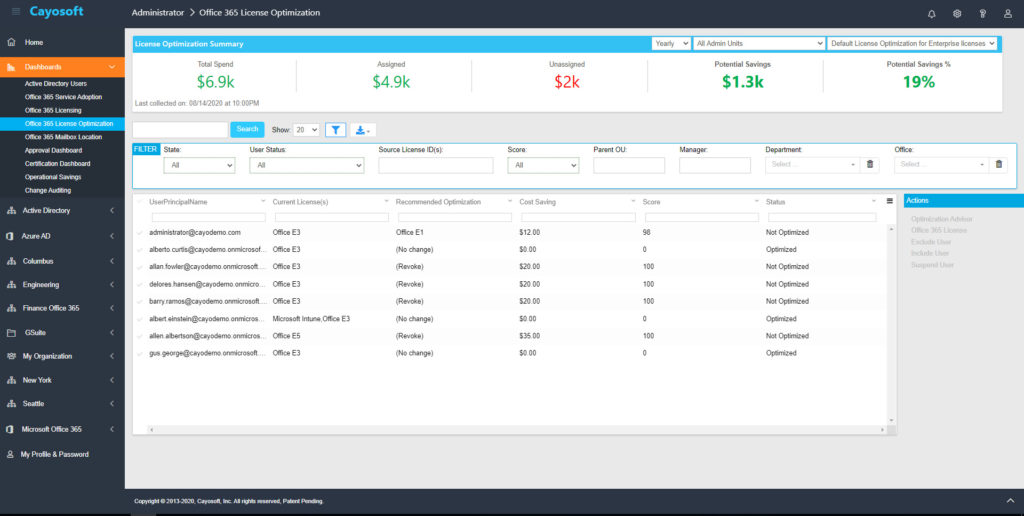 Deep Visibility Means Costs Savings
Cayosoft Administrator delivers the visibility and control that will allow your organization to get the most from their Microsoft 365 license investment. Cayosoft allows you to easily see your number of licenses, user activity, and even assign licenses and reclaim them automatically. Cayosoft also not only identifies users' licenses that should be optimized, it shows you if the license can be changed. With this information in mind, you'll be better prepared for discussion and negotiations to make your budget go even further in your Microsoft EA.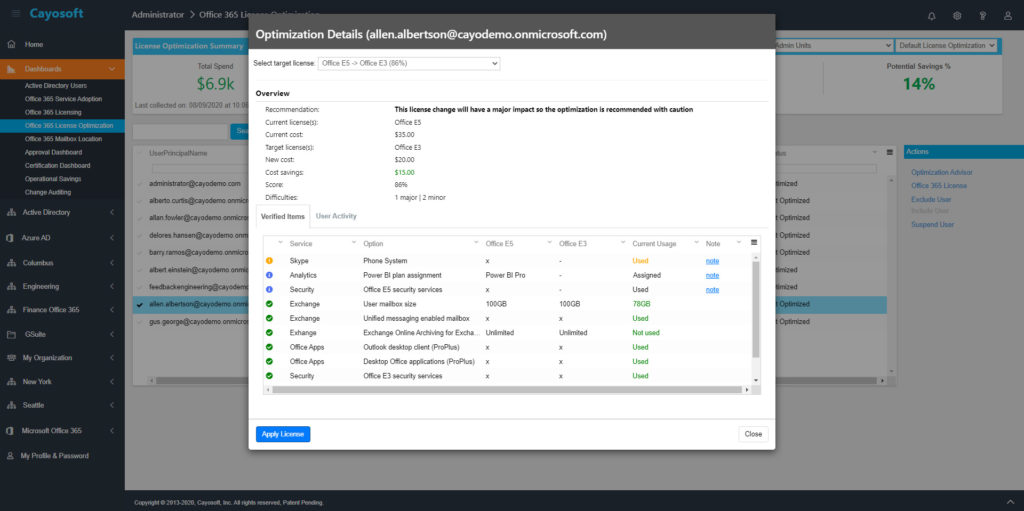 Want to see more? See a quick demo of Cayosoft's dashboards and license optimization features.