Hybrid Azure Active Directory Change Monitoring
Easily identify issues and threats before they become security issues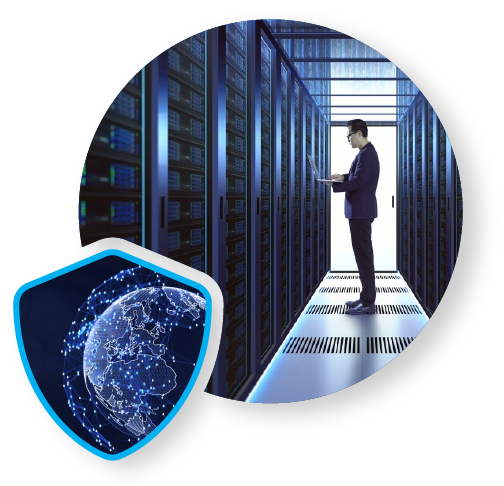 Monitor Active Directory Changes to Ensure Security and Minimize Cyber Risk
The Challenges of Change Monitoring Across Multiple Microsoft Platforms
As the risk of cyberattacks and ransomware continues to increase, it is becoming even more critical to have a clear understanding of changes happening across hybrid Active Directory (AD) and Azure Active Directory (Azure AD). Ongoing monitoring of AD changes is essential for the timely detection of unwanted changes and can mean the difference between preventing a security incident or attempting to recover from one. Unfortunately, due to the many limitations of native auditing capabilities and legacy third-party change monitoring tools, it can be complex and time-consuming to track and audit active directory changes.
Simply increasing visibility and awareness of unauthorized changes is also not enough. IT administrators need an efficient way to investigate further and quickly respond. Even platforms for backup or security information and event management (SIEM) lack all the functionality required to be effective. This can cause critical changes to be undetected, leaving organizations vulnerable to attack.
Complete Visibility Across Hybrid
Native and traditional change monitoring tools lack functionality to easily view and respond to changes across on-premises and cloud directories.
Streamlined Threat Detection
Operating across hybrid environments is complex, often involving disparate systems and separate tools, making it difficult to identify and instantly resolve threats.
Identity Security & Continuity
As new threats continue to rise, additional security and visibility is essential to support traditional backup and SIEM investments.
The average cost to recover from a ransomware attack is $1.85 million.
The length of time it takes to detect an attacker in a network is 24 days.
More than 25.6 billion cyberattacks are attempted on Azure AD each year.
Capabilities for the Ideal Active Directory Change Monitoring Solution
Detect Malicious Changes and Defend Against Ransomware Attacks
Today's evolving threat landscape requires a modern, unified solution to track potential security issues and has become a must-have for any organization to ensure the availability of mission-critical systems, like Active Directory (AD), Azure AD, and Office 365 platforms. With the proper tool, IT administrators can proactively identify unwanted changes, whether malicious or by mistake, as they emerge and respond to them before attackers have the chance to act, not only minimizing impacts on business continuity but possibly preventing costly outages all together.
Unified Change Monitoring & Alerting
Continuously monitor for security risks, such as malicious actions or mistakes.
Simplified & Centralized Visibility
Gain complete visibility, in one pane of glass, across Active Directory, Azure AD, or Office 365.
Real-Time Alerts & Audit Reporting
Receive real-time notifications and schedule reports to proactively alert IT admins of security threats.
Instant Rollback & Forensic Analysis
Identify and isolate suspect changes to AD objects or attributes and instantly revert unwanted changes.
Threat Protection & Automated Remediation
Keep watch over critical security settings and automatically block changes to sensitive identities.
Event Log & SIEM Enrichment
Track change history even when security logs or SIEM tools are compromised or bypassed.
Discover Cayosoft Guardian: Quick Product Tour
Instantly Find and Fix Unwanted Changes Across All Your Microsoft Directories
Cayosoft Guardian is the only True Hybrid, unified solution for change monitoring and auditing of on-premises Active Directory (AD), hybrid AD, Azure Active Directory (Azure AD), and Office 365. With Cayosoft Guardian, you can continuously monitor, track, audit, and instantly rollback unwanted directory change and, if needed, automatically rollback known malicious changes or common mistakes. Cayosoft Guardian expands visibility across your entire Microsoft environment, enabling you to watch for early signs of compromise and detect possible vulnerabilities, stopping hackers in their tracks. With our unified approach to proactive AD security, you can easily find and instantly fix potential security issues, expose blind spots, reduce your attack surface, protect your highly privileged accounts, and minimize costly AD outages, all from a single console.
Cayosoft Guardian Features:
Continuous change monitoring of Active Directory, hybrid AD, Azure AD, Office 365, and other critical Microsoft systems for suspect or unwanted changes to critical objects and settings.
Real-time proactive alert notifications, delivered through Microsoft Teams or email, of changes or potential issues that may require immediate attention.
Centralized, unified change history and tamperproof event logs with up-to-the-minute records of changes across critical Microsoft platforms and hybrid Active Directory.
Instant or automated rollback of unwanted changes to Microsoft identities, including Active Directory, hybrid AD, or Office 365 objects and attributes.
Built-in, custom, and audit-ready reporting for external compliance mandates such as HIPPA, PCI DSS, and SOX.
Cayosoft software was specifically designed to manage and secure across hybrid Microsoft environments, including on-premises Active Directory, Azure Active Directory, Office 365, and more. With our True Hybrid approach and unified consoles, Cayosoft offers the industry's most comprehensive solution for Microsoft identity administration and security.

Resources For Active Directory Change Monitoring and Auditing
Avoid Hybrid AD Outages: Unifying Change Monitoring and Recovery
In this webinar, learn more about the importance of change monitoring in defensive AD security strategies.
8 Truths and Tips: Protecting Azure Active Directory and Hybrid AD
Learn from Microsoft MVP, Brien Posey, key concepts to help you prepare for and recover your Active Directory from inevitable cyberattacks.
Cayosoft Guardian | Unified AD Change Monitoring and Recovery
Discover Cayosoft Guardian, the industry's most comprehensive solution for AD change monitoring and recovery for hybrid Microsoft platforms.