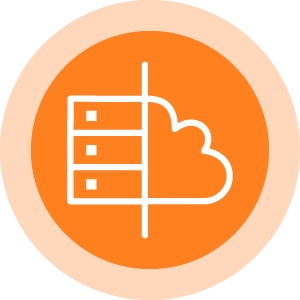 Manage, Monitor and Recover Hybrid Microsoft Environments
Simplify and Secure Office 365 Hybrid Management
Hybrid management, for organizations with on-premises Active Directory and Microsoft 365, requires a set of disconnected administrative consoles, varying security models, and complex scripting that can be time-consuming, confusing, and error-prone. Even with Microsoft's Azure AD Connect, day-to-day tasks are hard to perform and they often require senior administrative staff to be involved in tasks normally assigned to the service desk. The day-to-day experience for administrators and help desk is to jump back-and-forth between different on-premises and cloud-based consoles and run unsecured scripts to perform the most basic operations. Cayosoft streamlines hybrid  Microsoft management to improve security, efficiency, and IT compliance.
Secure Hybrid Administration
Implement a single set of roles and granular permissions in a privileged access model. Provision, manage groups, provide self-service, and more without complex scripts.
Automate Group Management
Automate and delegate group management. Flexible and granular membership rules automatically add or remove members without human involvement. Allow group managers to securely modify memberships. 
Recover Active Directory Everywhere
Minimize downtime with change monitoring and immediate recovery of on-prem, Azure and hybrid Active Directory. 
Optimize Microsoft 365 Licensing
Optimize license spending, automate license assignments, and securely delegate license management.
"Cayosoft Administrator is our one-stop shop for anything we need to do with a particular user, from provisioning to mailboxes to licenses. There is a major ROI in having it."
Cayosoft Management and Protection Suite
The Cayosoft Management and Protection Suite is purpose-built for modern Microsoft environments, helping organizations to ensure security and protection, improve efficiency, and sustain compliance as they journey to Office 365 and Azure AD. 
The Cayosoft Management and Protection Suite includes:
Cayosoft Administrator – True hybrid administration! From on-prem to Microsoft 365, Cayosoft Administrator delivers a single solution to automate and streamline day-to-day IT administration. Administrator simplifies management with role-based delegation, rule-based automation, self-service, Office 365 license optimization and more.
Cayosoft Guardian – True hybrid recovery! Cayosoft Guardian recovers and protects Azure Active Directory and hybrid AD data. Through a unified view, Guardian monitors all directory changes and empowers administrators to understand and rollback those changes quickly.
With friendly subscription-based licensing and responsive support Cayosoft is proud of its 99% customer retention rate. 
Ready for the Hybrid and Cloud IT Journey?
Purpose-built from the beginning with hybrid in mind, Cayosoft manages and protects Microsoft platforms anywhere.
Role-based security makes it simple to delegate what day-to-day administrators and help desk staff see and do within Cayosoft Administrator. One unified set of easy-to-configure roles enforce a granular, least-privileged administrative model. Roles do not require the user to hold native permissions, so you can dramatically reduce the number of Domain, Enterprise, or Global Admins.
Rule-Based Administration
Rules provide a consistent way of performing administrative tasks across on-premises or cloud systems. When a task requires automation or ongoing enforcement, a rule can be created that queries the underlying system and then takes action, if necessary.
Enforce IT Policies with Business Rules
Ongoing IT policy enforcement is critical for maintaining security and for sustaining legal or regulatory compliance goals. Cayosoft helps make sure that key IT business policies are being enforced. Optionally, Cayosoft Administrator can be configured to take action in the target system to correct policy violation.
Eliminate Complex Scripts
Microsoft's native tools completely lack automation and IT rule enforcement. Microsoft PowerShell, while powerful, can be confusing and difficult to support. Relying on scripts requires in-house scripting skills and expert knowledge about the systems, applications or directories to be modified. Even with the time and money to build scripts, it can cost even more to support them long-term. Scripting things correctly, even PowerShell, is time consuming and expensive.
Obsolete Object Retention Policy Enforcement
Permanently delete users and groups after a suspension period or defined date and time.
Built-in email notifications allow administrators, help desk staff, managers, mobile, or desktop users to receive important alerts and information. Email alerting is an optional part of each alert scenario and works with popular SMTP Servers like Microsoft Exchange and Office 365.
Real-Time Visibility and Basic Reporting
At the heart of Cayosoft Administrator is data discovery. Administrator works by connecting and querying a source system like Active Directory, an Excel CSV file, or a cloud application.  Administrator then filters, sorts, and analyzes the information to determine if any action is needed.
Bulk management avoids wasting valuable time and possible errors that come with manually updating larger numbers of user accounts and other objects.