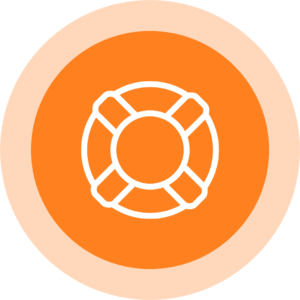 Protect and Recover From Unwanted AD Changes
Save Time and Minimize Downtime with Immediate Recovery
Accidental deletions and attribute changes from human error or scripting mistakes can cause costly outages and downtime. Native tools and recycle bins can only recover so much, and recreating a hard-deleted object requires navigating clutter logs and backup file comparisons. Even when you can find the problem, restoring users access can require multiple steps, costing valuable IT resources.
Detect and recover from unwanted changes across Active Directory, Azure AD, Microsoft 365, Microsoft Teams, and Exchange Online settings in a single, unified platform. Break away from managing multiple legacy auditing and recovery tools, fumbling with backups, and deciphering cluttered logs.
Minimize Costly Outage and Downtime
Deploy immediate rollback anywhere in your hybrid Active Directory environment without wasting time mounting and searching backup files.  Quickly understand and remedy lockouts to minimize user downtime and avoid broader outages.
Quickly Isolate Suspect Changes
Cayosoft Guardian provides a comprehensive search interface that enables you to see changes that may not be immediately obvious without understanding other objects which may have changed as well. Cayosoft Guardian empowers admins to:
Identify possible issues or misconfiguration and alerts
Identify suspicious changes and alerts
Identify any change including those to policies and application assignments
Automatically rollback changes
Execute change approval
Go beyond native tools to instantly restore group settings and memberships, object attribute data, Office 365 license settings, conditional access policies, hard-deleted objects, and more. Recover multiple changes at once to immediately reverse even far-reaching damage.
Continuous Data Protection
Traditional backups miss data between intervals and require a full restoration of your environment, even when dealing with granular adjustments. Continuously backup your environment and selectively restore only the necessary changes. 
"Guardian clearly delivers on its promises. Its continuing monitoring and protection of on-premises and/or Azure Active Directories guarantees that most changes can be rolled back swiftly and at the touch of a button, without administrators having to go through numerous logs or resort to backup scripts or files."
Check out these relevant resources.
4 Reasons Why the Recycle Bin Can't Fully Protect Azure Active Directory
User errors are a reality, and the threat of malicious actors breaching AD –both on-premises and in Azure – is on the rise.
Protecting your data has never been more important.  This blog covers 4 reasons why you cannot rely solely on the Recycle Bin to protect Azure AD.  
Preventing Azure and Hybrid AD Outages: The Unsettling Truth
We discuss:
Challenges related to protection and recovery of Azure AD and hybrid AD   
Why relying on native Recycle Bin is a losing strategy
How to protect against unwanted changes and associated outages
8 Truths and Tips: Protecting Azure Active Directory and Hybrid AD
Read the paper to see 8 truths and tips to help you:
Better protect your environment
Understand the gaps in native tools
Plan for the inevitable recovery event