Managing Microsoft environments can be complex and time-consuming, but they provide critical services to maintain business continuity and allow access to employees to keep them productive. Whether on-premises Active Directory, hybrid, or Microsoft 365 (formerly Office 365), IT executives must balance efficiency while maintaining Active Directory security, such as managing user and group permissions, and ensuring compliance. This is why Microsoft platform and identity management is so important, especially in hybrid environments. Understanding these issues and properly identifying solutions helps optimize and secure Microsoft infrastructures and keep them scalable for the future.
In a recent study, tech executives were surveyed to understand the current status of their Microsoft environments, concerns around them, and potential solutions to help improve and secure Microsoft platforms, users, and availability. The results reveal that hybrid Microsoft environments are the norm today and will continue to be in the future.
See more of what other IT efficiency and security concerns tech executives have regarding managing Microsoft infrastructures.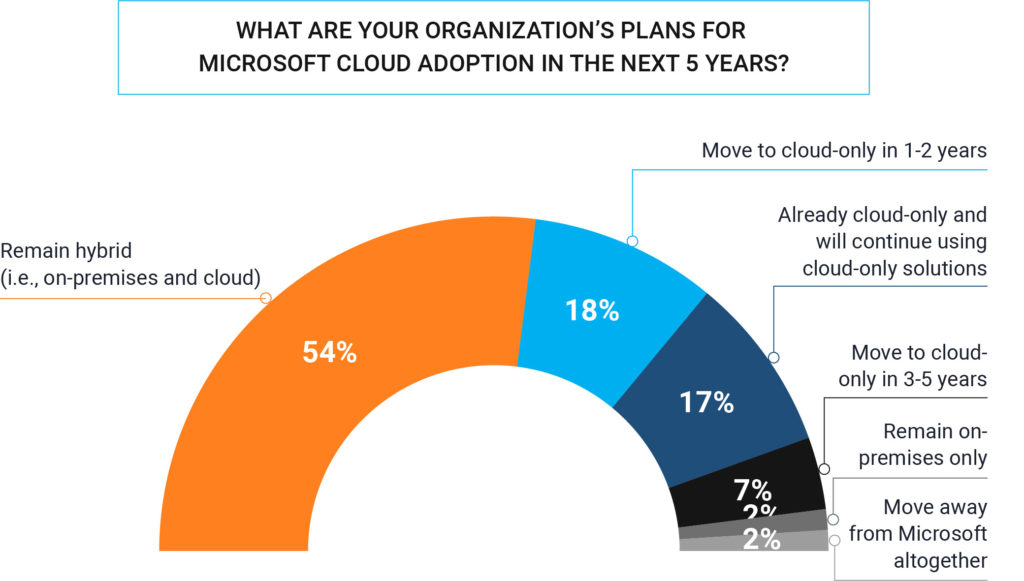 With over half of organizations operating with hybrid Microsoft environments for the foreseeable future, IT executives want to optimize management, efficiency, and security. Cayosoft offers comprehensive solutions for management and protection across Active Directory, Azure AD, Exchange, SharePoint, OneDrive, Teams, and Microsoft 365. Easily manage Microsoft users and access with Cayosoft; fewer screens, no complicated scripts, and more automation. Cayosoft enables you to automate manual administration tasks that can consume your IT staff, saving time and minimizing security risks. From hybrid Active Directory management, including provisioning and user and group management, to backup and recovery, Cayosoft has solutions to help you control and secure your Microsoft platforms.
Learn more about how Cayosoft can help your organization manage your Microsoft environment, with our most complete offering: Cayosoft Management and Protection Suite.