Recover Your Active Directory Forest - Examining the Critical Impacts
A couple years ago, Cayosoft commissioned a survey of 200 technology leaders to better understand the impacts and costs when recovering an Active Directory. We wanted to revisit this research, examine the answers, and see the differences between now and then. Here's what we found.
Active Directory is Still a Top Target
Threat actors target Active Directory and Azure AD for attack for many reasons. It contains vital user information and is critical to the operations of almost all organizations worldwide. It's also very complex and lacks transparency, leaving numerous attack paths for hackers to exploit. Active Directory security has become an even more popular topic and although best practices exist, implementing and maintaining them can be difficult.
Active Directory (AD) Disaster Costs Really Add Up
Top impact = organization ceases to operate
Let's unpack that a bit, employees cannot log on to PCs or access Office 365 and file shares. Labor is often the biggest expense at an organization. With Active Directory (AD) down, including domain controllers (DCs), employees are sitting idle with an inability to perform their jobs. This alone can be a huge loss for the organization, but it gets worse.
For example, if you're in manufacturing and your inventory systems are directory enabled, your suppliers likely have no visibility into your raw materials levels, which could impact production and ultimately revenue. Beyond lost revenue related to the supply chain, there is the potential for damaged supplier relationships.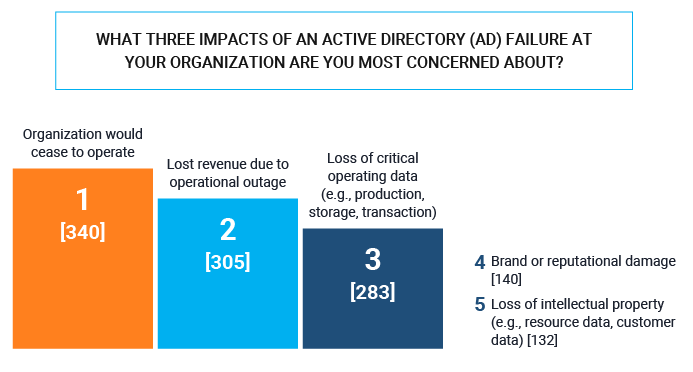 Without a disaster recovery plan in place, customers then begin to be impacted, causing revenue to take an even deeper hit. Depending on how long customers cannot buy from you, they are forced to make other arrangements that can have lasting effects on your customer relationships.
How Much Does an AD Outage Actually Cost?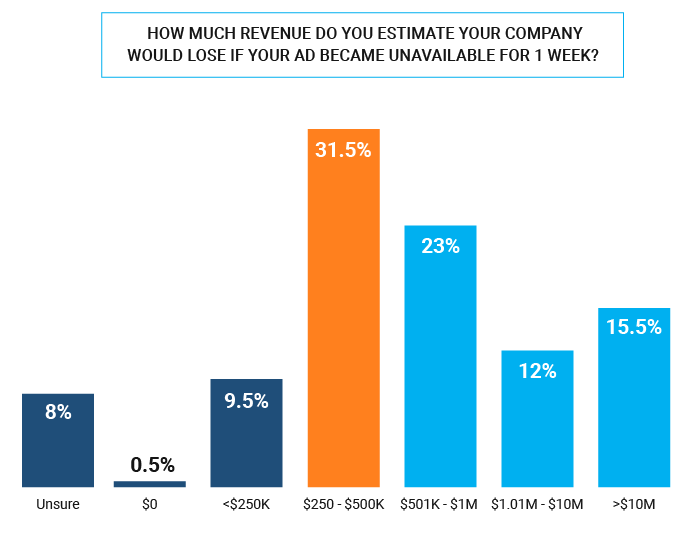 82% believe that if Active Directory was unavailable for 1 week, they would lose between $250K & $10M
Think of all the impacts outlined above resulting from AD forest outages: lost revenue, idle employees, strained relationships with customers and suppliers. Organizations lacking true Active Directory disaster recovery can also be left vulnerable to additional attacks and risk reinfection. When disaster strikes your Active Directory or Azure AD, the impacts of an outage are far reaching and devastating, making recovering AD a top priority.
How much do you estimate you would lose? Even at $250,000/week can you afford not to better protect and make recovery faster? When panic hits and you're feeling the pressure from executives, employees, suppliers, and customers, time is of the essence. Having a reliable AD forest recovery plan, with emphasis on the speed of recovery, is paramount!
What Happens During an AD Outage?
Hear from your peers their experiences when disaster struck their Active Directory:
Ways to Recover an Active Directory Forest
69% of you will rely on Microsoft documentation & scripts
Why? Native recovery and scripts require lengthy processes and are wrought with errors. The risk of malware and ransomware attacks is constantly rising. Every week we see more and more news headlines announcing another attack. Maybe you think an outage won't happen to you? Cyberattacks are not "IF" but "WHEN" will they happen.
49% of you said you would use 3rd party tools for AD forest recovery
3rd party forest recovery solutions are insurance policies that expedite the recovery process. Most aim to also eliminate the active directory forest recovery guide provided by Microsoft.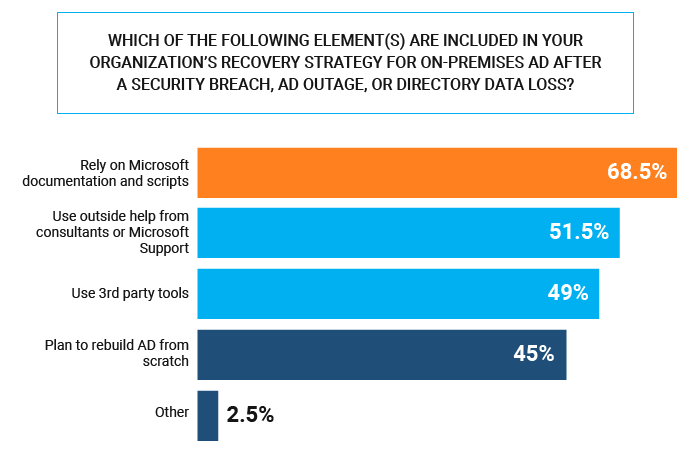 With the minimum cost of a 1-week AD outage being $250K, ranging up to $10M, why wouldn't you use a tool to restore AD in days, or even minutes, versus weeks natively? Is the license savings worth it when an outage occurs and you're hemorrhaging costs and chaos is rampant? Just like insurance, no one wants to pay for it, but you sure are glad you have it when needed.
What are you going to do about the critical impact an AD outage could have?
Whether the cost of an Active Directory Forest outage has gone up doesn't matter; the actual cost is too high! Modern organizations, of any size, simply cannot afford to have their AD go down for a week. Even a day or two is too much when Cayosoft can have you back in minutes. Don't give in to attackers: protect your vital operations with patent-pending Instant AD Forest Recovery technology from Cayosoft!
Virus reinfection is a real problem.
A virus, like ransomware or malware, spreads throughout the server environment, infecting new machine after new machine until it's everywhere. More traditional backup and recovery vendors take snapshots of the operating systems and machines, with the virus already embedded. When you recover, you recover the virus too! Additionally, you must find a clean server to recover Active Directory domain controllers (DCs). If a virus has infected all machines, this is just another headache to deal with when chaos hits. Rebuilding servers, applying backups, testing it all, and dealing with major concerns over attack timing and results, all combine to make getting back to normal extremely difficult and time consuming. Reintroduction of malware or any virus just compounds existing problems. Eliminate the risk of reinfection, as Cayosoft's backup and recovery uses a patent-pending approach, including flexibility to restore wherever you have clean servers available, whether it be to an on-premises server, virtual machine (VM), or Azure VM.
Cayosoft Has a Different Approach to AD Forest Recovery
There are only a few vendors who specialize in forest-wide Active Directory recovery. Cayosoft competitors' forest recovery process is similar, but it's based on an antiquated approach popularized over two decades ago! Cayosoft Instant AD Forest Recovery is a modern, patent-pending technology that takes an accelerated approach, because minutes matter. Cayosoft can recover your entire forest in a matter of minutes. Backups are created and tested daily so you can be confident that when they need to work, they will deliver! With competitors, there is always the risk that the backup was not done or done properly, and it may have been tested a year or more ago. With Cayosoft your backup environment is ready at any moment, saving valuable time and providing peace of mind.
When it has to work and minutes matter, there is only one real answer: Cayosoft Instant AD Forest Recovery!
Want to learn more about Active Directory Forest Recovery?