Black Basta Ransomware Attack Hits ABB's Active Directory | May 2023
ABB, a multinational corporation based in Switzerland, is a leading industrial tech provider, employs 100,000+, and reported revenues above $29 billion in 2022. It's believed the attack was carried out by famed ransomware group Black Basta on May 7th, 2023.
News headlines across the industry have been quick to report the attack, with major sources indicating the ransomware attack targeted the company's Active Directory, affecting hundreds of devices.
ABB Confirms Ransomware Attack
ABB also acknowledged an incident took place in a press release on their website.
Tech Monitor reports "Hundreds of devices at the automation specialist are said to be out of action as it battles the effects of the breach." Other sources say the attack disrupted the company's operations, delaying projects and impacting the factories. They go on to note that ABB has been the biggest victim of Black Basta so far. The previous largest victim was Capita, a U.K. based outsourcing firm, and is expected to cost up to $25 million.
Attacks to Active Directory Increasing
While this attack was not as bad as it could have been, the virus was allegedly not self-propagating, it highlights how vulnerable modern organizations are to attacks! In the past few months, we've written several other examples of increasing attacks and the devastating impacts Active Directory outages can have.
Attacks to Active Directory Increasing

Enterprises like ABB, with over $29B a year in revenue, have large cybersecurity budgets. Unfortunately, ABB still got breached! It's not about prevention, it's about recovery! Attackers will find a way in, regardless of cybersecurity posture. You minimize damage and loss with a fast recovery! Microsoft Active Directory is an attacker's paradise, with access to do real damage.
AD is used by roughly 90% of global organizations and is known as the most commonly used authentication and authorization system in the world. How much would it cost if it were taken down by a cyberattack? ABB has over 100,000 employees, most relying on Active Directory (AD) to log onto their PCs and access their email, word, productivity applications, and more. How many dollars are lost on salary if these employees can't work? With an average employee salary of $75,000/year, that's over $20 million – A DAY!
This is just the cost of productivity for employees. What about the impact on suppliers and most importantly customers? Imagine customers not being able to purchase and consume your goods and services for just 3 days. What financial impact would that have? What reputation impact would that have?
Cayosoft Introduces Patent-Pending Instant Forest Recovery!
When it has to work and recover very fast, Cayosoft is the only answer! Whether you're losing $20M or $200k a day just from idle employees, every minute matters when Active Directory goes down due to cyberattack or mistake! 
With Cayosoft, your risk of recovery failure is NONE because we automatically test and recover daily. There is no need to rebuild servers or concerns about finding clean, non-cyberattacked machines to recover on. Cayosoft delivers a stand-by forest, ready to go whenever needed.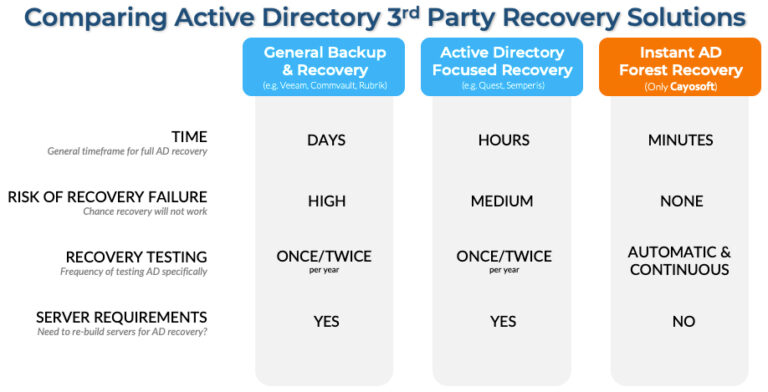 Ready to defend and secure your Active Directory from cyberattacks?