Cayosoft Administrator




The best way to simplify and automate Group Lifecycle Management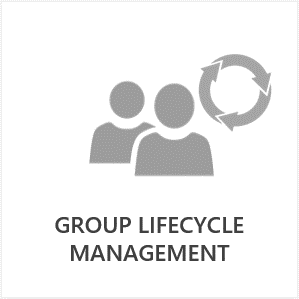 IT Challenge:

 How can I keep groups accurate and up-to-date?
Without the ability to automate group lifecycle management, the administration of group memberships is a time consuming, manual, and often error prone process that can result in costly security and compliance failures.   Because groups control access to often sensitive information – they are a favorite focus of auditors and compliance officers. When a membership change is overlooked or made in error. security and compliance goals are put in jeopardy. The result can be costly service desk calls, security breach, material findings and the loss of IT's credibility with the organization.
The Solution:

 

Cayosoft Administrator Group Lifecycle Management
Cayosoft Dynamic Groups™  delivers a simple and affordable group membership automation solution that keeps groups accurate and helps you maintain security, compliance and efficiency. Granular membership rules automatically add or remove group members when needed, allowing administrators to concentrate on what is most important. Indispensable to administrators, help desk, security admins and auditors, Dynamic Groups helps sustain security, compliance and efficiency twenty-four hours a day, seven days a week.
Simplified
Delegate Group Management to
Admins or Group Owners
Makes Hybrid Seamless
Group Deprovisioning
Automated
Dynamically & Automatically
Update Group Memberships
Granular Membership Rules
Update from HR/ERP/SIS
Optimized
Unified Solution Works with
Active Directory and Office 365
Membership Limit Rules
Built-in ROI Dashboard*
As users are hired, change roles, change locations, leave the organization, start or stop projects groups will need to be updated. No longer are groups in one place, in the Modern Microsoft Enterprise, groups may be on-premises or in the cloud. Because groups control access to sensitive resources and data, it is critical they be kept up-to-date so that security and compliance goals are not jeopardized.
Determine group members according to easy to define rules so access is accurate and compliant
Automate group membership updates to eliminate error prone and lengthy manual updates and costly mistakes associated with them
Rules that eliminate mistaken or malicious manual group changes through explicit or query based includes and excludes of members
Improving Hybrid ROI with Group Management
Rule Based Administration (RBA) is at the core of the Cayosoft Administrator Suite. While Office 365 does provide query based distribution their inherit limitations mean they can be used to define only the simplest of data drive membership rules; and they cannot exclude users. Active Directory does not provide query based distribution lists.
Hybrid Ready: Works with Active Directory or Office 365
On-going IT Policy enforcement is critical for maintaining security and for sustaining legal or regulatory compliance goals. Cayosoft Administrator will keep an eye on important systems like Active Directory to make sure that key IT business policies are being enforced. Optionally, Cayosoft Administrator can be configured to take action in the target system to correct policy violations.
Dynamic Rules Determine Group Memberships
When a new user is provisioned into Active Directory or Office 365, Dynamic Groups will automatically add them to the correct groups according to the rules. If a user changes jobs within an organization, Dynamic Groups will automatically adjust the user's group membership so that they are assigned the correct level of access.
Query Based Rules Include or Exclude Users, Groups, Contacts or Computers
Include Queries – Specify members using query criteria so they will always be in the group
Excludes Queries – Specify users, groups or computer objects that should never be in the group.
Static Based Rules Include or Exclude Users, Groups, Contacts or Computers
Static Includes – Specify members by name so they will always be in the group.
Static Excludes – Specify members that should never be in the group.
Manage Security or Distribution Groups
The modern Microsoft enterprise will have groups in Active Directory, Exchange and Office 365/Azure AD. Supporting automation and self-service for these groups is the only way to provide a comprehensive solution that is secure, efficient and compliant. Cayosoft Administrator supports Security and Distribution groups both on-premises and in the cloud and will even work with Hybrid Groups through integration with Microsoft Azure AD Connect or its predecessor Dir Sync.
Self-Service Group Management
Another method to Automate Active Directory Group Management or Office 365 Group Management is through end-user self-service. Self-Service Group Management empowers Distribution Group Owners and Application Owners to control their own groups without opening a costly help desk ticket. Cayosoft Administrator provides a unified user self-service group management solution  that both reduce service desk calls, but also improves the overall end-user experience.
Visibility, Analytics and Reporting
At the heart of Cayosoft Administrators Group Management capabilities is data discovery. Cayosoft Administrator works by connecting and querying a source system like Active Directory, an Excel CSV file or a Cloud Application. Next Administrator filters, sorts and analyses the information to determine if any action is needed.
The only unified and modern administrative platform
The Cayosoft Administrator Platform is the only unified and extensible platform  that solves critical IT problems across multiple Microsoft Systems like Active Directory, Exchange, Skype for Business Server and Office 365.  Cayosoft's Rules enforce least privileged admin permission assignment for maximize security, Rules control how tasks are performed for optimized efficiency and to sustain compliance. Cayosoft Administrator is the only modern platform build with on-premises, cloud and hybrid management in mind.