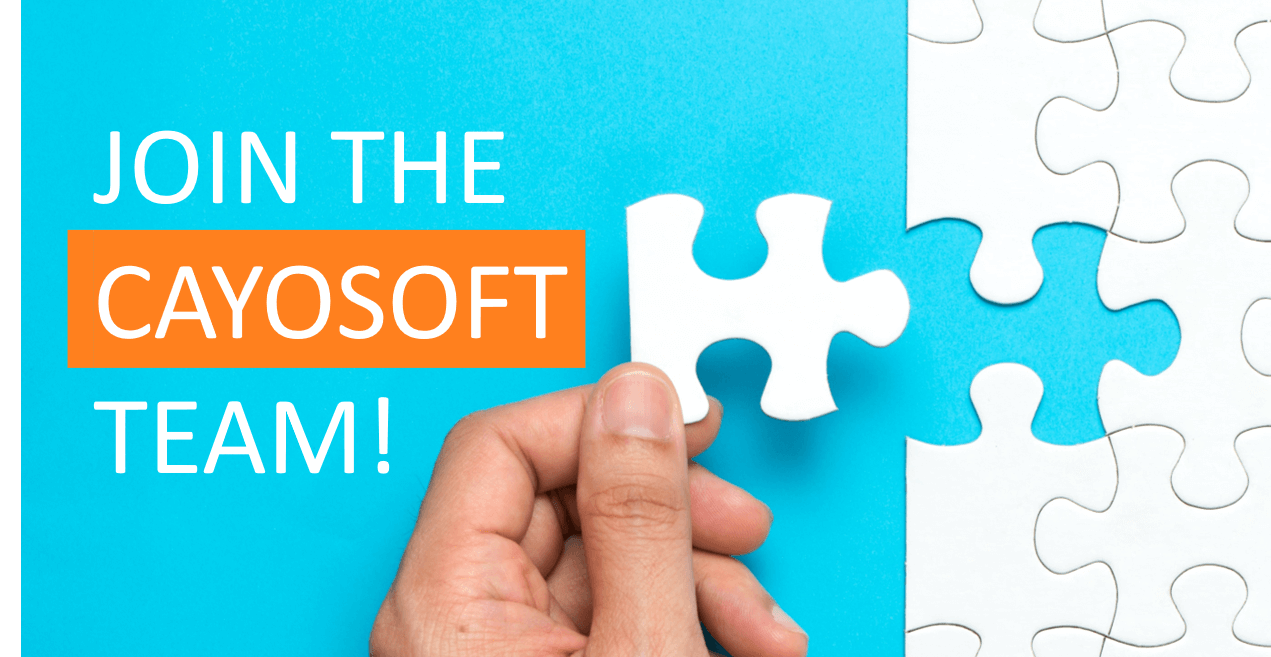 Customer Success Coordinator
Reports to: COO or CRO/VP of Sales
Classification: Full Time, Non-Exempt
Last updated: February 2019
About the Company
Cayosoft Inc., a fast-growing global independent software vendor, delivers exciting and innovative products that help organizations manage their Microsoft infrastructures throughout their journey from on-premises, to hybrid, to public and private cloud.   Applying deep expertise in IT operations and a focus on delivering practical new functionality, Cayosoft helps customers worldwide remove barriers to adoption of a modern cloud infrastructure. Cayosoft's solutions secure, simplify, automate and control Active Directory, Exchange On-premises, Office 365, Exchange Online and Azure Active Directory, OneDrive, Skype, SharePoint and Teams.  Headquartered in Columbus, OH we are a fast-growing start-up, with a competitive product advantage, and a great vision of the future. Cayosoft is currently experiencing high growth.
About the Role
The Customer Success Coordinator (CSC) is responsible for maintaining contact with our new & existing customers to guarantee a highly successful relationship. The CSC will work with management and sales to oversee the new customer on-boarding process, maintain accurate customer information in the and monitor customers success throughout their subscription life cycle.
Duties and Responsibilities
Assist with on-boarding new customers to provide key information that will help the customer work successfully with Cayosoft.
Establish regular communication with customers to ensure customer satisfaction.
Meet or exceed daily/weekly activity targets for:
Conversations with key customer contacts.
Schedule and conduct quarterly review calls.
Assist customers in finding the correct Cayosoft resources for their current needs.
Document activities and update customer information in sales force automation system.
Effectively communicate progress and challenges with other stakeholders including supported sales, marketing, and management.
Assist at conferences when needed by attending and assisting with both coordinating and manning both activities
Any other tasks that may be assigned to help the company meet its goals
Escalate customer issues or requests to management.
Qualifications, Experience and Needed Skills
Highly energetic, positive and enthusiastic team player with strong interpersonal skills and collaborative orientation
Self-starter with a high level of initiative and strong sense of ownership and urgency, organizational and time management skills
Solid telephone skills; must excel at talking to customers and being on the phone
Demonstrated ability and desire to learn new concepts
Demonstrated ability to comprehend and discuss technical subject matter
Commitment to self-improvement and success
Ability to multi-task and function in a fast-paced environment, often with changing priorities
Committed to exceeding targets and quarterly goals
Excellent written and verbal communication skills
Attention to detail in composing correspondence to clients
Proven track record with a minimum of 1-year experience
Measures of Success:
Lead follow up SLAs met or exceeded
Activity metrics (calls, e-mails, etc) met or exceeded
Compensation
Base salary will comprise roughly 90% of Overall Target Earnings (OTE), while 10% of compensation will come from an incentive compensation plan which pays for performance against measurable objects on a monthly and/or quarterly basis.  It is possible to earn above OTE based on exceeding elements of the incentive compensation plan.
Work Environment
This job primarily operates in an office environment.
Please note:  Please note this job description is not designed to cover or contain a comprehensive listing of activities, duties or responsibilities that are required of the employee for this job as they may change at any time with or without notice.