There are challenges to removing the last Exchange Server when you move to Office 365. In order to keep things working properly the synchronization between Active Directory (AD) and Office 365 becomes critical to keeping things running smoothly. Both Azure AD Connect and the predecessor DirSync, solve the problem and both are free. Both solutions however, make changes to Office 365 such as the disabling of features or making attributes read-only so that consistency is maintained between AD and Office 365.
For example, editing user email addresses in Office 365 is disabled because the proxy addresses field in Active Directory is authoritative. Active Directory doesn't provide simple access to this attribute so many people use ADSI edit through advanced properties. Neither option prevents problems and they both require deploying a console to the desktop or server access. Some organization feel they must continue to pay for on-premise exchange and maintain the server just to try and simplify management only to find that the special requirements of hybrid increase administrative burden by up to 90%.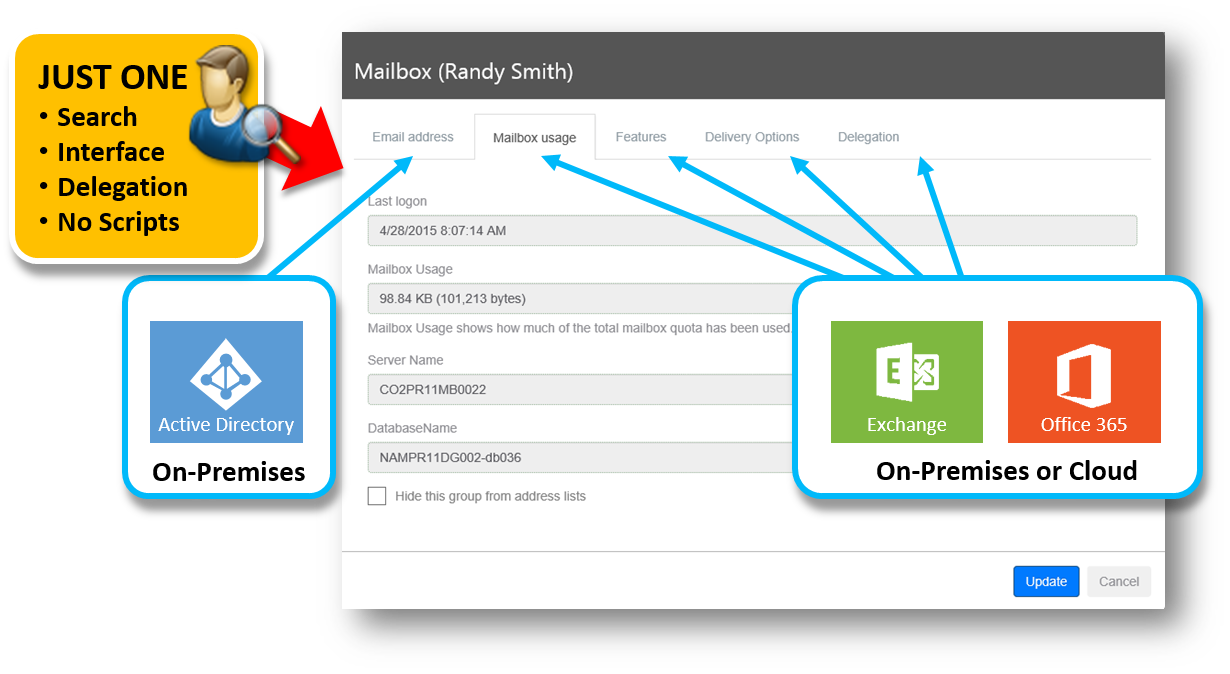 Cayosoft simplifies managing the Hybrid environment by delivering a unified solution that allows you to manage Active Directory, Exchange On-premise and Office 365 from one console, with one search and one place to work. While both Exchange On-premises and On-Line are in use, the system seamlessly delivers the correct mailbox details for each user.
Deactivating your last On-Premise Exchange Server
Once mailboxes are move to Office 365, you simply deactivate the last on-premise Exchange Server and continue to manage your environment no Interruptions, no complex scripts, no ADSI Edit or the hassles of working between multiple disconencted web sites. In addition to one place to manage AD and Office 365, there is the added benefit of a single security model.
Works with Azure AD Connect or DirSync Server
Cayosoft Administrator often runs on the same server that is running Azure AD Connect or Directory Sync, but it can run on its own server(s) if you have a large number of administrators.
Conclusion
You an remove your last Exchange Server in a Hybrid Deployment and then give your help desk ADSI edit and scripts to manage your hybrid environment, but you will eventually run into problems. Cayosoft Administrator simplifies and secures your hybrid environment with a single unified platform that makes hybrid management easy.