Within Microsoft Teams there are two user roles: Owner and Team Members. Keep in mind, a user who creates a new team is granted the Owner status. If a team is created from an existing Office 365 Group, permissions are inherited.
Note: Owners can make other members owners in the View teams option. A team can have up to 100 owners. It's recommended to have at least a few owners to help manage the team; this will also prevent orphaned groups if the sole owner leaves your organization. For more documentation from Microsoft on orphaned groups and how to assign a new owner to them, click here.
Add Owners and Members to Microsoft Teams
If you want to make someone an owner, view who's an owner of an existing team, or add team members go to the team name and click More options  > Manage team.
The Role column tells you if someone is a team member or owner. To make someone an owner, click Member and then select Owner.
You can also make someone a team owner while you're creating a team. When you're adding team members, designate whether each new person is going to be a team member or team owner by clicking Owner under the Member menu.
Tap Teams, go to the team name, and tap More options  > View members. If you're a team owner, you can make someone a team owner by tapping a user profile and choosing Make owner.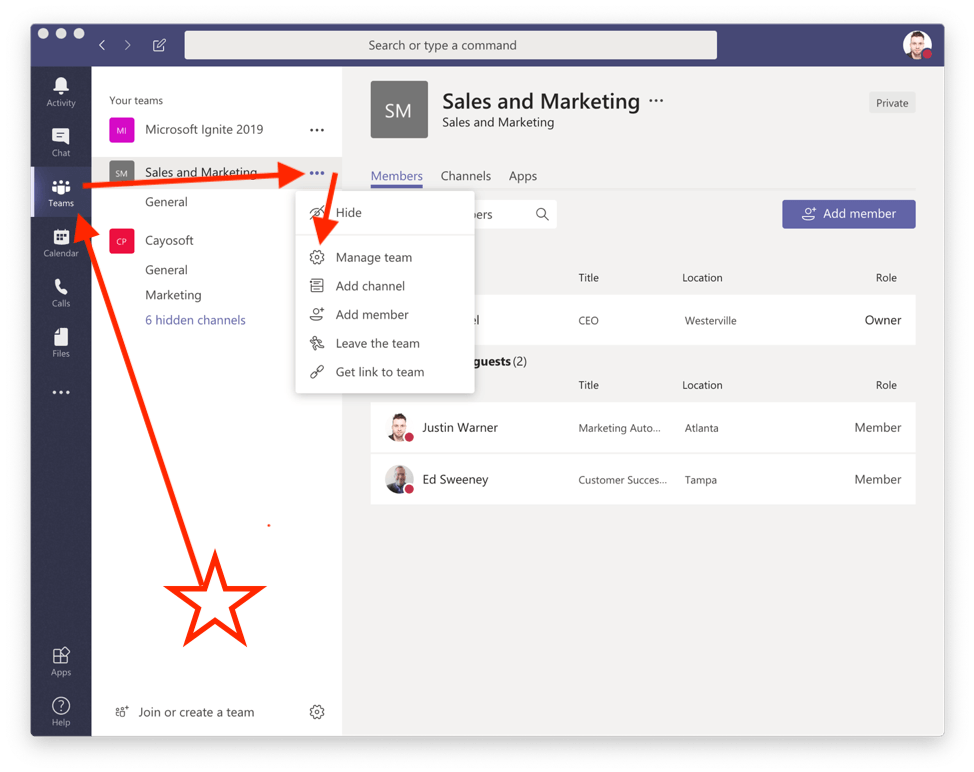 If you're a team owner, tap Teams, go to the team name, and tap More options > Manage members.
The Need for Microsoft Teams Management Tool
Microsoft Teams has replaced Skype for Business Online as a highly configurable and extensible collaboration platform. However, it lacks some of the basic Microsoft Teams Management Tools needed for enterprise management including those for Office 365 Groups Management. Teams' flexibility and automatic integration with SharePoint and Office 365 Groups, make Teams Management complex and time consuming. Without enterprise tools Teams will sprawl and quickly become un-management. MS Teams Management Tools allow enterprise organizations to easily manage Microsoft Teams and reduce Teams Sprawl so that Security, Compliance and Efficiency Goals are sustained.
Cayosoft's Administrator includes enterprise level Microsoft Teams Management allowing service owners to delegate critical tasks to day-to-day administrators for accurate and secure Microsoft Teams and Office 365 Group Management. Cayosoft's business rules also control Team Membership changes, Microsoft Teams Settings, and Microsoft Teams Channels. Cayosoft's Microsoft Teams Management Tools allows any organization to easily manage Microsoft Teams so that Security, Compliance and Efficiency Goals are sustained.
The tool also provides enterprise visibility to Microsoft Teams that were created, current team settings, team usage statistics, and empty ownership and membership. You can use these reports to build an inventory of your Teams environment and analyze it for possible optimization, restructuring, or to satisfy enterprise security admins or compliance auditors with Microsoft Teams Reporting to sustain enterprise level security and compliance.
View our on-demand webinar, Gaining Control Over Your Microsoft Teams Management.