The Cayosoft Administrator 4.0.2 maintenance release, shipped 2/21/2016. In addition to typical changes for this type of update, this version includes improved integration with Azure AD Connect and additional control over granular delegation.
Other new features in Cayosoft Administrator v4 include:
Office 365 License Quotes
Group Membership Restrictions
Complete Office 365 Hybrid Management
40+ New Features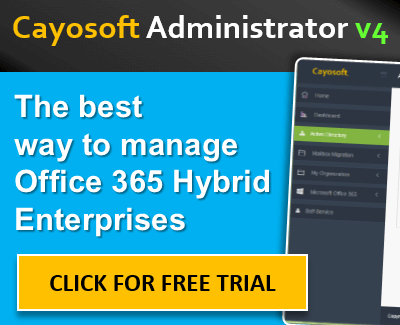 Cayosoft Administrator is the best way to manage the Office 365 Enterprise. Most customers see up to a 90% reduction in administrative burden and the elimination of most scripts. For more information visit the Cayosoft Administrator product page.