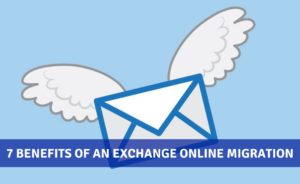 Is your enterprise still using on-premises email? It's time to consider moving your operations to the cloud. You can easily migrate users to a Microsoft Exchange server online, an industry-leading cloud solution. Used by small businesses, medium-sized businesses, and Fortune 500 companies, Exchange Online has numerous features and advantages not available through an on-prem service. Running Exchange in the cloud provides all of the benefits of a cloud-based email service with the robust capabilities and security of an on-premise server deployment.
Here's what you need to know about the benefits of migrating mailboxes to Office 365 — and what you'll need to do to move forward.
Why Should I Consider an Exchange Online Migration?
An on-premises email server makes an organization fully responsible for their own email maintenance, upkeep, updates, and troubleshooting. On top of the technical burden, the business also takes on responsibility for the security of its email service. As threats to data security grow more complex and expansive, the cost of protecting a server only grows.
An Exchange Online migration makes it possible for a business to leverage the power of a hosted enterprise service while avoiding the capital expenditure and associated maintenance costs of a traditional on-site email server. Comparatively, an on-premises deployment of Exchange 2010 or Exchange 2013 will be less effective and will cost more to maintain.
However, you will need to undergo a migration process to begin using the features of the Microsoft Exchange online email system. Before you migrate mailboxes, you'll need to choose a migration method. You may need to define migration batches, perform a cutover migration, or choose to migrate in stages.
7 Benefits of an Exchange Online Migration
Access it from anywhere
Businesses are increasingly using remote workers and connecting multiple offices. Teams can be scattered across the world, but still need to be able to work together in a consolidated, collaborative environment. An Exchange Online migration makes it possible for employees to connect to their emails from anywhere in the world — and from any platform. Exchange Online can also support a larger number of mailboxes through its scalable resources.
With the hybrid option, better security can be achieved with on-premises Active Directory/Exchange Integration while also taking advantage of the scalability and flexibility of a true online solution. Hybrid flexibility provides additional resources when needed while also offering all of the security features of an on-prem service. You can maintain your existing premises exchange organization following the transfer, making it easy and intuitive for employees to transition.
Foster real-time collaboration
Exchange Online is able to provide real-time collaboration through Office 365 groups. Within an Office 365 ecosystem, the Exchange Online service is able to take advantage of all of the other applications attached to Office 365. Documents can be shared and worked on in real-time and employees can communicate effectively.
Initiate a litigation hold
When a company believes litigation will occur, something called a "litigation hold" is sent out. A litigation hold puts a freeze on any information that could be related to the litigation. Electronic information must be stored for compliance and regulation requirements, and backup and recovery features need to be provided for accidentally deleted items. A failure to preserve electronically stored information during a litigation hold can ultimately lead to compliance, regulatory, and legal issues for an organization. Exchange Online makes this process easy.
Set automated mail flow rules and disclaimers
Exchange Online makes it possible for an administrative account to automate many of your administrative tasks, thereby reducing the administrative burden of managing your mail services — and ensuring that the management of email is performed faster and more consistently. The exchange admin center provides an easy, simple way for in-house staff to manage its features.
Achieve better regulatory compliance
Many companies are seeing increasing regulatory guidelines all the time and it can be difficult for any organization to keep track of the new regulations. A migration to Office 365 provides for better regulatory compliance, by creating better accountability, making it easier to track changes, and providing features such as litigation holds.
Increase the security of your user mailboxes
Security is becoming a leading concern for businesses, as cyber security issues are replicating fast. With an on-prem system, your organization is solely responsible for its own security. With an Exchange Online service, Microsoft will update and maintain its security.
Conclusions
If your email is still being kept on-premises, it's time to move to the cloud. Exchange Online provides improvements in functionality, increased security, and reductions in cost — the benefits are simply too great to not be considered. For the price of migrating to the cloud, or performing an IMAP migration, you'll gain dividends from both improved collaboration and increased IT efficiency. An Exchange Online solution means not having to delete emails for storage space, not having to worry about email security, and not providing continued support for an on-prem email service.
Cayosoft Administrator simplifies Enterprise Microsoft Exchange Administration weather it is on-premises, hybrid or cloud. See how we can help!