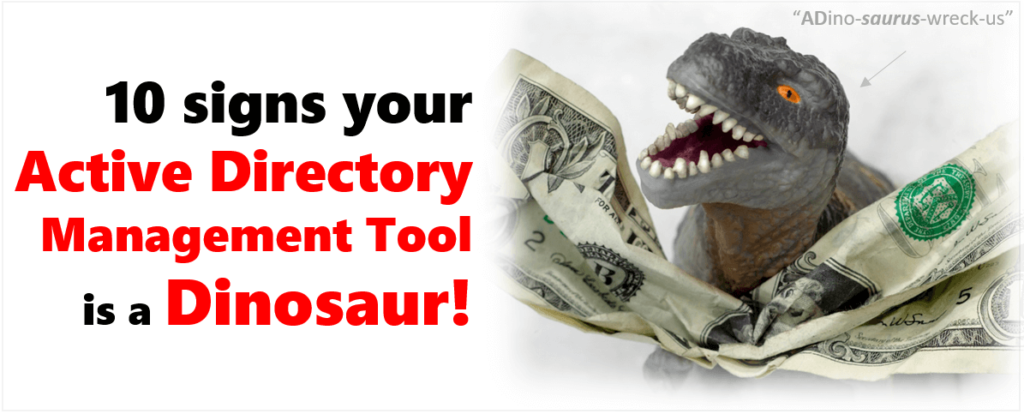 Existing Active Directory tools were created more than ten years ago – before AD hybrid became a mission critical enterprise requirement. Vendors made things worse by failing to improve and evolve their products turning them into big, unwieldy and expensive dinosaurs headed for extinction. Customers know replacing a tool takes work, but the rewards can be astonishing. Updating enterprise AD Management tools will streamline administration and easily add value in new areas like simplified hybrid administration or covering additional directories too expensive to cover in the past. So, how do you know if an AD Management Tool is a Dinosaur?
Here are 10 signs an Active Directory Management Tool is a Dinosaur:
Product updates are few and product issues go un-resolved
The vendor is slow to support new versions of Windows, Exchange, and other systems
The tool was not designed with Enterprise Hybrid in mind and the vendor struggles to "bolt-on" basic Office 365 capabilities
The tool requires complex "extras" like SQL or LDAP Servers & associated licenses
Additional products must be purchased to create a complete user provisioning or self-services solution
Complex scripts are needed to fill gaps in product functionality
The vendor has moved moved development to an off-shore "maintenance" team
The vendor's business conditions put product futures in doubt
The vendor is a "hidden" OEM, re-selling another companies management tool
Sky-high tool costs leave areas of AD without a management solution
Cayosoft Administrator is the best way to manage the Modern Hybrid Active Directory Enterprise. For more information visit the Cayosoft Administrator product page
here.