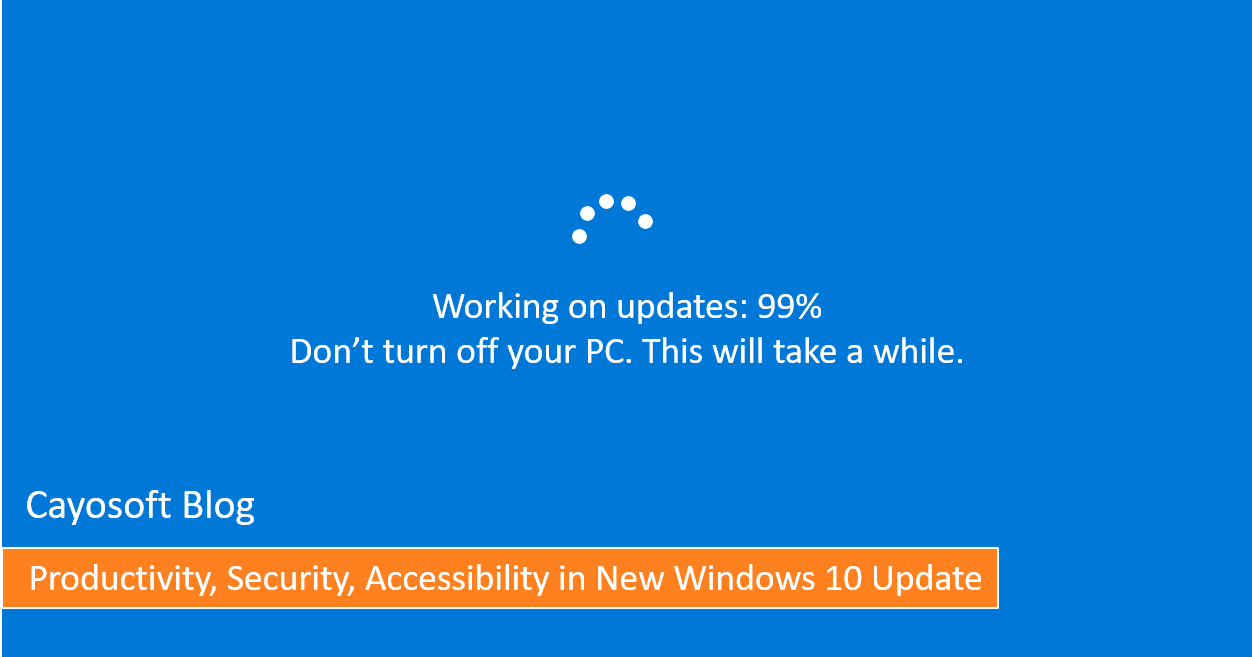 The new Windows 10 update is rolling out now, and there are plenty of handy features and changes included. Here are the productivity, security, and accessibility highlights from Microsoft's announcement. 
Productivity
Think of the new Timeline feature as a browser history, expanded to track all user activities on all their devices. It's not quite that dramatic, but it does allow users to search through up to 30 days of their activities from any Windows 10 PC and Windows-connected iOS or Android device. It's one of those features where its usefulness is instantly apparent—just imagine being able to easily find (or delete) that one slippery file that you were working on last week. 
Rapid local sharing is also being introduced. Instead of using Teams or any other application, Nearby Sharing allows users to send files directly from one Windows 10 PC to another on the same Wi-Fi or via Bluetooth. 
Focus Assist mode completes the trifecta of major new productivity features introduced in this Windows 10 update. Activating the mode blocks all (or those of your specification) notifications and sounds, allowing you to focus completely on the task at hand. 
On the subject of focus, Microsoft Edge is getting a full-screen, distractionless mode and clutter-free printing. Adding to that are long-awaited features like tab muting and form autofilling. These new features bring the browser more into parity with what competitors like Chrome and Firefox offer. 
S Mode, Windows 10's cloud-based, streamlined-for-productivity mode is now more readily available. It now comes enabled in Windows 10 Home and Pro PCs and is possible to enable for Enterprise customers.
In its announcement, Microsoft also dropped tempting hints of a single sign-on change coming in June. As planned, users will be able to sign into one Microsoft app or service on a device and will be automatically signed into them all (including Office 365). 
Security
The new update also brings a few security improvements. For example, Windows Defender Application Guard (WDAG) will now be included in Windows 10 Pro. Not only big enterprises will now have the browser attack protection offered by the service. 
The Account Protection Pillar has been added to Windows Defender Security Center, intended to encourage users to broaden their identity security through PINs, fingerprint passwords, and other password alternatives. The Security Center is also receiving the Device Security Pillar, which provides device security feature status reporting and management. In addition, the Security Center will have better notification management and customization. 
Available "in the coming weeks," OneDrive Files Restore will be integrated with Windows Defender. Windows Defender will notify you of ransomware threats and then help get rid of the 'ware; from there it gives you the option to restore files to their pre-attack state. 
Accessibility
Dictation has been improved as well, requiring only a cursor hover and keypress (Win + H) to activate in any text field. That's great for everyone–users with limited mobility and unique needs will appreciate easier dictation as well as other new accessibility improvements. Accessibility features are now mostly found in one place and are organized more clearly. Eye-controlled navigation's new preview is more powerful and flexible. 
English language learners (young or old) can now enable text suggestions to help in sentence construction. Microsoft Edge can now read the contents of EPUB files with somewhat-natural narration. Edge now also offers grammar tools that can break down words into syllables and highlight parts of speech. 
As always, there's also a variety of smaller updates and improvements included with the larger changes. So if you'd like to learn about how this Windows 10 update affects Windows Ink, the Start menu, touch keyboards (multilingual text auto switching!), virtual reality, gaming, photos, and HDR updates, check out Microsoft's update announcement. 
If you want to receive more industry news and useful tips, follow us on Facebook, Twitter(@Cayosoft) and LinkedIn.