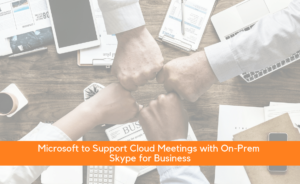 Microsoft will now let Skype for Business customers use the Teams collaboration service exclusively for online meetings. This move is likely to please enterprises that want to keep their on-premises calling and messaging.
Microsoft unveiled a preview of the new setup this week at Enterprise Connect. The product is designed for large businesses that want to protect six-digit investments in calling hardware, while taking advantage of the scalability and advanced features of so-called cloud meetings in Teams.
Some enterprises have complained that Teams does not yet support calling features advanced enough to meet their needs. Other large organizations have privacy and regulatory concerns about storing messaging data in the cloud.
The cloud-meetings-only mode will provide a steppingstone for businesses by letting them disable the calling and messaging features of Teams.
Microsoft said 500,000 organizations had begun piloting or using Teams over the last two years. However, the vendor has consistently declined to say how many daily active users exist within those organizations.
Microsoft innovates with digital whiteboard features
*NEW: Microsoft also highlighted at Enterprise Connect the public preview of a digital whiteboard feature in Teams for commercial customers.
The feature lets participants in cloud meetings collaborate on a virtual canvas meant to simulate a physical whiteboard. Microsoft showcased two aspects of its whiteboard feature that could differentiate Teams from competing products.
Teams will be able to convert a picture of a physical whiteboard into a digital canvas, so the information can be stored in Teams and edited in an online meeting. What's more, in Microsoft Teams Rooms, businesses will be able to use any USB camera to stream the image of a physical whiteboard into Teams.
Microsoft's technology will automatically frame and enhance the physical whiteboard and will make transparent anyone that walks in front of the camera, so remote participants can continue to see the board.