Cayosoft Administrator™
The best way to manage Active Directory, Exchange,
Office 365 & Hybrid Enterprises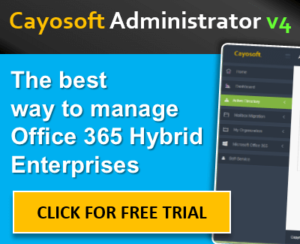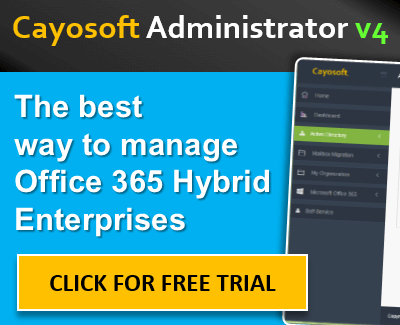 Make Administration of Office 365 & Active Directory easy with Cayosoft Administrator, the only product of its kind. Cayosoft Administrator's Active Directory Management Tools are purpose-built to solve critical administrative issues that jeopardize security, compliance & efficiency goals. Unlike legacy solutions, Administrator was designed with Hybrid IT in mind – not as an after thought. As organizations add cloud solutions, complex islands of administration are created making admins and help desk struggle to keep the environment secure, compliant and efficient.
Simplify Office 365 & Active Directory Management



Capabilities – 

Cayosoft #1 for Microsoft Administration
Active Directory  |  Exchange  |  Office 365
Create from HR/ERP/SIS data
Inactive Account Remediation
Sustain SOX, PCI, HIPAA Compliance
Eliminate manual-error-prone operations
Automatically keep groups up-to-date
Select members with multiple rules
Enforce Separation of Duty (SoD)
Eliminate error-prone, manual operations
Provision AD, Exchange and Office 365
Integrates with Microsoft DirSync
Office 365 License Management
Pre-Migration/Sync Preparation
Granular License Enforcement
Assign to AD or Office 365 Users
Compliance & billing reporting
Alert on low-license availability
Single console administration
Rules for strict command & control
Automatic remediation of problems
Optimize Account and License Usage
Web based Changed Password
Password Reset & Unlock
Group Management
Contractor Account Over-site
Real-time or Scheduled
Simple & Secure
Hybrid ready
Reports where and when needed
Free for any sized organization
Clean-up Inactive Users & Groups
Resolve Group Problems
Prepare for DirSync/AD Connect
Prevent New  Issues with Rules
Sustain Security & Compliance
Reviews & Resources
These Powerful Modules Included
Why Cayosoft Administrator
Platform Features
System Requirements
Licensing
Free Tools
Why Cayosoft Administrator



The Challenge – Relying on memory, potentially error prone manual procedures or downloading and running suspicious and possibly dangerous scripts is no way to run your IT business. Cayosoft Administrator unifies your hybrid environment under a single console and provides the IT controls demanded by auditors and compliance officers. Cloud and Mobile have also made day-to-day administration and adherence to IT Business Practices more complex and costly. The slew of separate administrative interfaces (or sometimes there are no administrative interfaces) means jumping between disconnected islands of administration that takes more time, increases errors and costs while reducing Admin Productivity.
The Solution – Cayosoft Administrator solves these problems with pre-built rules designed to efficiently perform key administrative tasks so you can concentrate on the more important aspects of IT. Cayosoft Administrator provides the missing layer of automated administration and IT rule enforcement for Active Directory (AD), Exchange, Microsoft Hybrids and Office 365. Demanded by compliance officers, auditors, security admins and busy day-to-day administrators, Administrator  helps sustain security, compliance and efficiency twenty four hours a day, seven days a week.
Real-time or Scheduled
Simple & Secure
Hybrid ready
Reports where and when needed
Free for any sized organization
Use Administrator for Office 365 for FREE!
Complete the 25-day free full-trial and continue in Freeware mode
Full Product for organization < 200 users, FREE
Use Administrator for AD for FREE!
After the 25-day free full-trial, continue in Freeware mode
Full Product for organization < 200 users, FREE